– by Pilar Mitchell, Broadsheet Sydney, Tuesday April 14th, 2020 –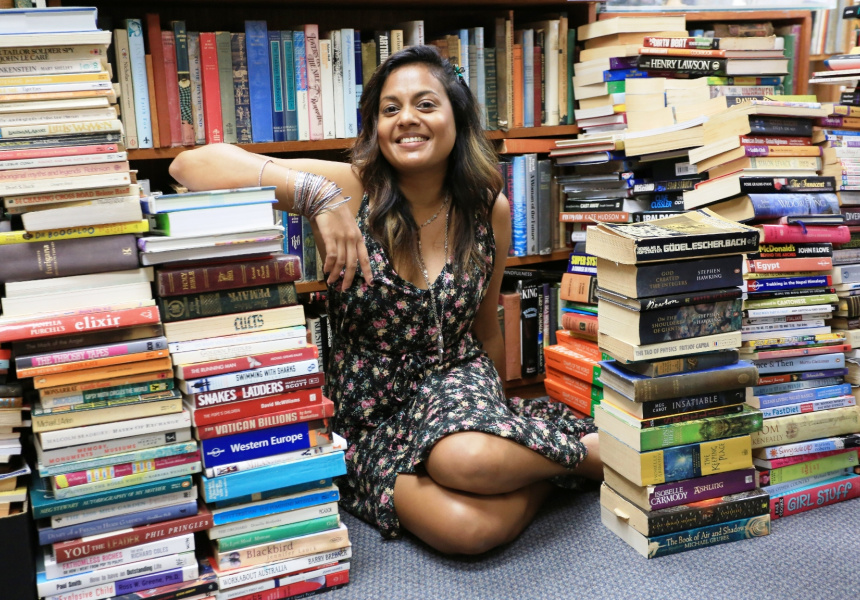 If you tell bookseller Tanya Kurukulasuriya whether you're a dog or cat person and if you love or hate olives, then describe your personality with a few adjectives, she'll choose five books informed by your responses, wrap them in brown paper and post them to you. You don't find out what the titles are until they arrive in your letterbox, but the mystery is part of the fun.
Kurukulasuriya and her dad Gerard own The Bookplate, a second-hand bookshop in Hornsby, and the book bundles are just one of the ways they're trying to keep the business afloat as coronavirus locks down the country and the economy.
The pair bought the bookshop 11 years ago, so Kurukulasuriya has had a lot of experience matching customers with books from the store's 35,000 titles.
"Choosing books for people is my favourite thing. I've been doing it for years," she tells Broadsheet. "Someone will come in and we'll spend 10 minutes going through what they like. It's easy to get a sense of them as a person when they're in front of me."
These days she evaluates customers via an online questionnaire, but her knack for picking books translates to the digital world surprisingly well. "The way I choose the books is part intuition, part secret, part magic and partly just because I know a lot about books. I'm a giant nerd," she says.
The Bookplate questionnaire is a simple Google form that asks customers a series of questions: their three favourite titles; whether they consider their glass half full or half empty; and whether they prefer books that are optimistic or bleak, predictable or unpredictable (plus a few other descriptors); and more. There are also bonus questions about wine for anyone who wants a surprise bottle from Orange winery Nashdale Lane to enjoy with their new reads. "What's better than books? Books and wine," Kurukulasuriya says.
I filled out the questionnaire, and although I read a lot, not one of the five titles Kurukulasuriya selected for me – including Kate Atkinson's modern classic A God in Ruins and Hannah Kent's award-winning Burial Rites – was one I'd read before. She even sent a book I've long wanted to read. Whatever her magic is, it clearly works.
If you live locally and still prefer to buy your books in person, The Bookplate has launched other initiatives to help customers follow social distancing guidelines. For example, there are boxes filled with books (marked $10, $5 and $2) for sale outside the shop – just pop your cash into the moneybox (it's an honour system) and take your tomes home.
"We also did a free box. Now is the time that we need to escape into a good book," says Kurukulasuriya. "I want to be there for those who need a book but are aren't able to pay."
The book bundle offer is working well – so far she's received 300 orders.
"You don't make a lot of money selling second-hand books, but we're trying to stick around for as long as we can. As long as we're making enough to cover rent and basics, we'll be here."
The Bookplate's book bundles are $50 each, for five to seven books. Fill out the questionnaire here to begin your order.